Have you been a bad boy? Oh, I know you have…you don't even have to tell me. You deserve a spanking phone sex session with a bratty domme. Well, that's what I'm here for. I want you to call me up right now and you need to be ready to confess to me, in detail, exactly what you've done that has earned you a spanking. By the time you're finished with your story, you will be dying to have that naughty ass spanked, but it isn't going to be THAT easy. I'm going to make you get down on your knees and beg me for your punishment.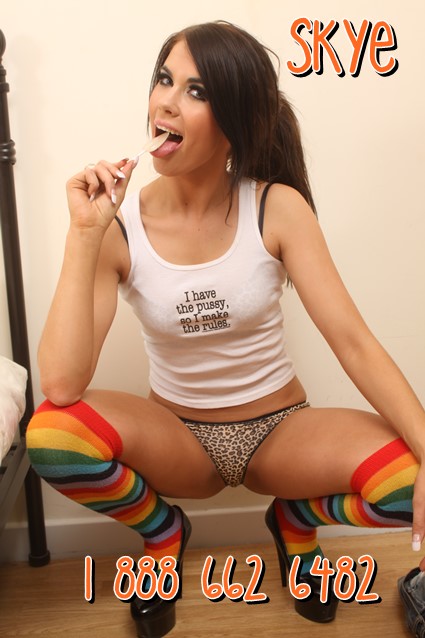 Once I'm satisfied, I'm going to have you go over to my dresser drawer and pull out my paddle and bring it over to me. Then you will hand it to me and strip down and bend over my knee. I hope you find it really humiliating to have to bring me the paddle that's going to spank your ass. Once you're bent over my knees, I'm going to make you start confessing what you did again. And then you will have to say please REALLY nicely and then I'll start spanking you.
If you get hard while I'm spanking you (and I know that you probably will because you're just that naughty), I'm might start spanking more than your ass. I may make you lie down on your back on my bed and put your legs in the air so I can get a good angle on your balls and start spanking them. You just never know what I will be doing with you.
Have you been bad and think you deserve the privilege of a spanking from me? Call me at 1 888 662 6482 and ask for Skye for spanking phone sex!