Seeing as how I graduated recently and started college, I'm really digging the whole school girl phone sex thing with you. I don't know why it makes me so damn horny but when you call me and pretend to be my naughty older professor, that sensually comes onto me it really gets me going. I think I may love school girl phone sex just as much as you do! I love roleplaying like I'm the straight A student and I need extra credit in your class to get that perfect grade and I'll do ANYTHING to get it, ya know what I mean? Laying back with our eyes closed, whispering to each other, imagining that I'm wearing a hot tartan skirt, a white blouse with a tiny thong and bra on underneath. Walking into your classroom in the middle of the day with my thigh high stockings on, looking so slutty.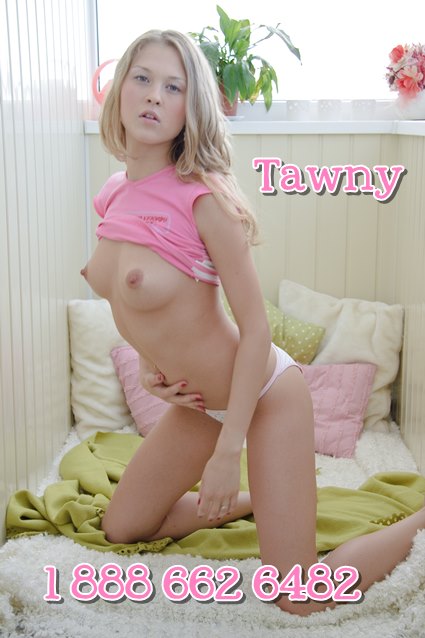 I sit down near the front of the class and bend over to pick up the papers I dropped, right as our eyes meet. The other students and I finish our exam and turn in our papers. You ask me to stay behind for a moment. Once everyone leaves you tell me to come over to you in a firm enticing tone. I smile coyly at you, my blonde hair in pigtails and pop my pink bubblegum practically in your face. "Yes Professor?" I say in my bratty sweet voice. You open a drawer in your desk and when I look down I see a paddle that says "Spankings belong to Sluts". I bite against my bottom lip as I blush slightly. "What are you gonna do with that thing? You don't think I'll let you spank ME, do you professor?" You give me the most smug smirk and stand up confidently and cross your arms over your chest. "Oh, you're going to beg me to spank you. You've been a tease all semester, Tawny. I see the way you dress, the way you look at me. I know you want to finish with a perfect GPA this semester and if you want that to happen you need extra credit in my class, don't you?" You wait for a response as I blush and nod quietly. You grab the paddle and put it in my hand. "Don't be shy now, Tawny. Go ahead and beg me to spank you, to fuck you like an animal. The way you do with the other boys around campus. I know this is what you want, my big fat cock. Do what I say and I just might give you that extra credit you so desperately need." I turn to start to lift my skirt, my eyes on yours as I prepare to say the words you're aching to hear escape past my pouty mouth.
Call 1 888 662 6482 and ask for Tawny for school girl phone sex tonight so we can continue this hot story professor.