Oh shit yeah, baby – you gotta love a good big, juicy pair of tits, right? Everybody loves tits – it just happens. Don't know why, but it is what it is, sugar, so why not call for some big tit phone sex with Nasty Naomi tonight? Look at these beautiful brown melons! You know you can't help but want to play with them! You wanna suck them, and slide that dick of yours up in them. You're dying to taste these cocoa nipples and see how sweet they really are. Your hands want to squeeze them. You also want to pinch and flick my nipples, don't you baby? So put down the remote control and pick up the dang phone, and get your big tit phone sex freak on right now!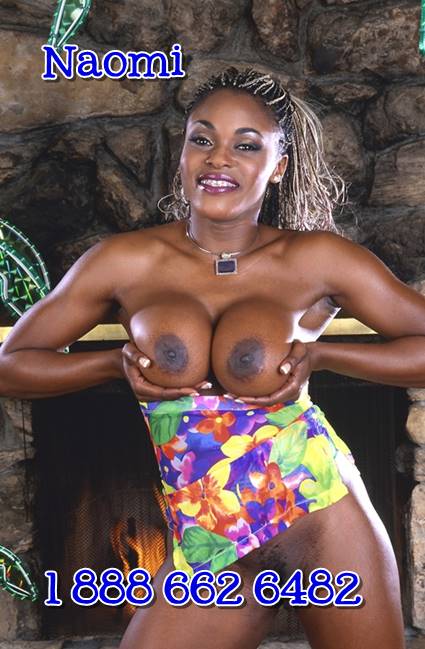 Why the fuck should you spend yet another Saturday night in front of the boob tube, when you can be on the phone with me talking about these delicious double D's? I wanna hear EVERYTHING you want to do to my tasty titties. I want you to think about your freakiest tit fetish fantasy, and see if you can surprise me. This ain't no boring vanilla whipped cream and cherries kind of fantasy I'm talking about, sugar lips! I want to hear freaky shit!! Nipple clamps, whips, clothespins, freaky sploshing foods – fuck, we'll figure out how to get the dang can opener involved if you're creative enough!
There's a reason they call me Nasty Naomi – I'm not gonna run from your freakiest, nastiest imaginations. I'm gonna stick around, see your freaky wager, and raise your bet to new levels. I want that big tit phone sex to be part of how you show your desire to worship this nasty Queen! And once you show me you're worthy to worship my big beautiful tits, maybe – just maybe, so don't get your hopes up – I might let you worship what's below my waist. Maybe.
Dial 1 888 662 6482 and beg for Queen Naomi for some nasty big tit phone sex!
Tumblr: naominastyqueen
Twitter: @naomi_nasty
Google Hangouts IM & Gmail: naominastyqueen@gmail.com