I'm not sure when it started, but lately impregnation phone sex fantasies have been really turning me on. The thought of being fucked bare back and having a man shoot his hot load of cum deep inside me just totally gets my pussy wet. I love the feeling of your warm gooey load dripping out of my pussy because I know that means you shot it inside me and that there's a really good chance that you just knocked me up.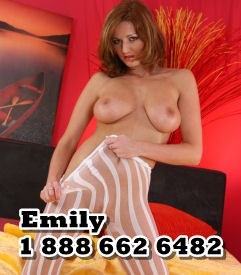 Or maybe it wouldn't be YOU who knocked me up. I have this fantasy where I'm married and my husband is pathetic… not really even what you'd call a real man. He has a tiny dick and is just useless in bed. I want to get pregnant but it's clear that he isn't going to be able to do it for me. So, what do I do? Well, I'll tell you what I'd do – I'd go out and find a real man who could fuck me right and get the job done. You might think that sounds cruel, but if I want a baby and you can't make it happen… well, I am simply going to do whatever it takes.
If you give me too much of a hard time about it, I am just going to make you watch him fuck me and cum in my pussy. You will be watching another man plant his seed in your wife's pussy. Admit it, even though you're a little upset, the thought of that makes your pathetic dick twitch. You are strangely turned on by the thought of your wife carrying the child of another man. You are starting to realize that it's your fault that measures like this even have to be taken. If you were a real man, things would be different.
Call 1 888 662 6482 and ask for Emily for impregnation phone sex