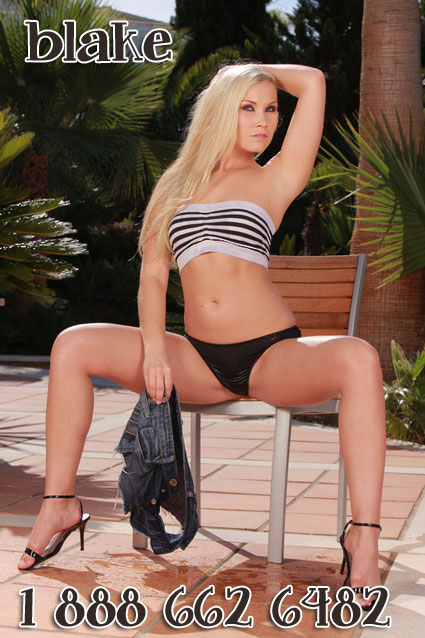 Hey Guys! Blake here, your blonde hair, blue eyed phone sex addiction!  If you're one of those guys that enjoy that sensual woman to talk to after a long day at work, then you've certainly come to the right girl. I'll be your perfect GFE phone sex kitten. We'll both be purring as you spoil me with gifts and I spoil you with my never ending no taboo affections. What could possibly be better? Right!
The moment you hear my voice and my giggle on the other end of the phone you'll instantly be addicted. Just have to warn you though, there's no going back once you've had a taste of me! All those kinky thoughts you have that your wife or girlfriend say "no" to, I'll happily accept. They don't listen to how your day went, but expect you to care about how their day went. Want the wettest blow job you have ever experiences? To feel the tip of my tongue slide across your cum hole, or my mouth wrapped tightly around your cock. She won't give you that oral that you've been craving, but that's okay baby! Just cum to me with your desires, deepest secrets and anything goes fantasies during our GFE phone sex. I promise I won't tell anyone! *Giggles*
Have you wanted a sweet taste of fresh morning pussy, but your wife or girlfriend won't let you under the covers? She thinks it's too gross? Don't worry baby, I'll open my legs wide, and let you slide your tongue all over my wet snatch, as I squirt in your mouth and face! *Giggles* When you finally cum out from under the blankets during our smoking hot GFE phone sex session, your face will be dripping, just like my tight pink pussy! Just cum n' feed your addiction!
Ask for Blake when you dial 1 (888) 662-6482 for GFE phone sex
Yahoo: bubblyblake
AIM: bubblyblake4u
Twitter: @bubblyblake4u