Time to stop staring and just give in. I know you have been wondering what it would be like to talk to a hot and kinky phone sex shemale so why wonder any longer when I am here. Yes! I am taking calls this evening and would love to pop your cherry so to speak. I promise to go easy on your as long as you tell me its your first time chatting with a sexy transgender woman like myself. Yes I prefer to be called a lady even though I still have that hot throbbing stick between my legs.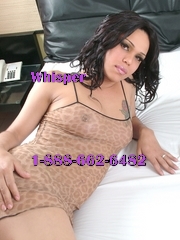 Trust me you will grow to love how unique my body is. From the soft round breasts you get to kiss and fondle, to the sweet curve of my ass that will make your dick rock hard and of course my throbbing 8 inches between my glorious caramel thighs. Bet you got hard the moment I started describing my cock didnt you?
Well imagine how hard you will be when I have you on the phone describing in full detail all the things I will do to you. Or better yet have you doing to my perfect phone sex shemale body. By the way I am a no limit and no taboo loving t-girl so that means any and all of your wild sexual fantasies can be discussed with myself.
So no need to be shy. Unless of course you like to play shy around a pretty girl like me.
You can reach me by calling 1-888-662-6482 just tell the dispatcher you wish to speak with Whisper the kinky phone sex shemale of your sexual desires. Looking forward to having some fun with you tonight!