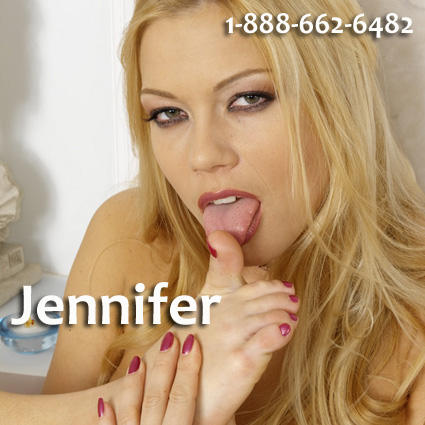 There are so many guys out there who are into foot fetish phone sex and that works out well for me since I love having my feet pampered so much. It is so very nice to come home at the end of the day and have someone there who will take their time and make sure that my tired feet are taken care of. And the man who pampers my feet might also even get a little treat at the end if he's lucky. You know exactly what I mean.
But for right now, let's get back to all of the pampering that you're going to do to my pretty feet. Yes, I COULD go pay for a pedicure, but it's so much more relaxing when I can sit around in my own home and have you do it for me. You treat my feet with so much love and adoration. The girls at the salon don't do that. I love the personal touches. I know you'll wash my feet and do it with care. You'll massage them and make them and make sure you work out all the sore spots. Once they are dried off, you will go and pick out a pretty nail polish from my collection and you will paint my toes perfectly.
Like I said… if you do a good job, you're going to get a treat when you're finished with all of the pampering. I will wrap my soft, pedicured feet around your throbbing cock and stroke it. You might not be used to having such pretty feet stroking you, but how could I say no to a foot job when you've been so amazing? I want to masturbate you with my feet until you blow a hot load all over them. Do you want to do it on my toes, or does it not matter as long as it's on my beautiful feet?
Call Jennifer at 1-888-662-6482 for foot fetish phone sex now and tell me where you want that load to go. If you don't want to decide, trust me, I can and will.
AIM – fetishgoddessjennifer