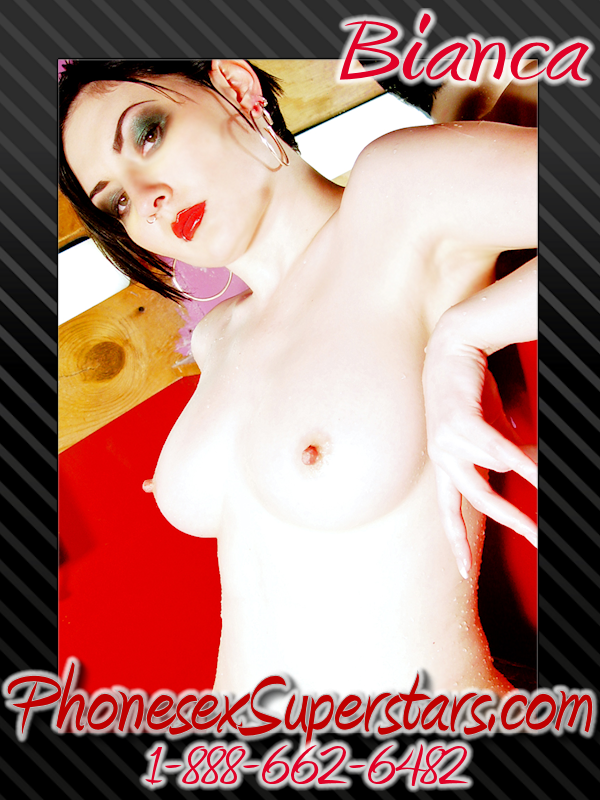 Had dinner with a dear friend recently.  Never slept with him, and still didn't after dessert.  I couldn't do that to him, ruining him for all other women, after he has me… LOLOLOLOL
Seriously, listen to your Auntie Bianca.  I cultivate friendships with men, as you should with women.  I learn plenty about men from my male friends because they'll tell me things and explain things without the sex bullshit in the way.  In this way, I've learned a lot about men, and a lot about cock.
Tonight's example, over Bailey's and coffee after a delicious steak (red meat, mmmmmmm) was blue balls.  Until tonight, I thought teasing a guy, getting him hard and then walking away, leaving him hanging was the colloquial "blue balls."  Well poppets, Auntie Bianca got schooled.  That's not blue balls.  And here I thought I was the tease and denial fetish queen!  The goth phone sex mommy is all about orgasm control.
Blue balls are when you drive a man to orgasm, either taking your time or going hot and heavy, and THEN leaving him high and dry when orgasm was in sight.  THAT'S the discomfort of balls lifting to shoot their load and not getting to, and then not knowing what to do.  It's not just a hard dick with no satisfaction.  As my friend put it, "an erection happens all day and at least five times while we're sleeping.  A breeze will do it.  Sometimes he just gets up and looks around to see what's up."
Sonofagun.  All this time, I thought I was being a terrible tease to various men, when it actually wasn't that bad.  Huh.  Well.  Now that I know that, if I want my tease and denial fix it means ramping up the energy, dialing up the desire.  I have to leave a man just about to climax and then, oops, I have an early squash game tomorrow, sorry!
That's the ache I know you need, boys.  True blue balls.  Now that I understand that just making the dick hard is something that's commonplace, when you meet me on the street and I feel like torturing you, it will go much, much further.  God, I can't wait.  Getting a man worked up and leaving him be is one of my perverse pleasures.  It's one of yours too, isn't it?  Well dear, if you really want to NOT get off, then call Bianca, because baby… you won't come until the phone sex mommy tells you to.
And that might just be never.
Call 1-888-662-6482 and tell them you want to try to satisfy Bianca
ALTERNATIVE FETISH PHONE SEX MOMMY
Yahoo ID: sinfulbianca | AIM ID: sinfulbianca