I'm Simone and I love BBC phone sex. Honestly it's not BBC phone sex, it's big black cock in general. Sure I fuck white guys sometimes, but the real sexual turn on is having a thick fat Mandingo cock. You know how how it is to see a white woman getting pounded by that black and it makes your dick hard just to watch. It's one of the more common fantasies that guys call ne about; watching their white wife or girlfriend being a slut for a BBC. Oh, it's not your wife you want to see with a BBC, but it's you who wants that magnificent black dick.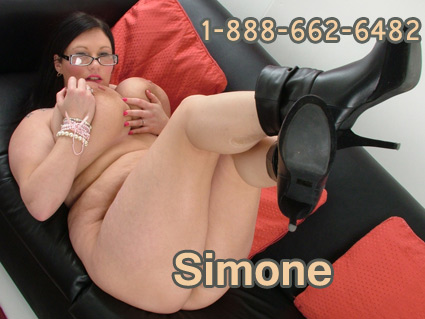 The stereotype of black guys loving fat girls is true for the most part. Take a look at my big round white ass and you'll know what is they want. A fat meaty ass to grab on to while he's fucking me like his hot slut. How fucking hot is it to see dark black cock sliding between my lily white fat ass cheeks. Almost as hot as it is to see that fat dark pole fucking my huge white tits. I can't even help myself when he slides his cock up between them, I have to open my mouth and taste him. My oral fixation isn't limited to food; I love to suck dick and eat cum too!
Call me for BBC phone sex and share that big black cock with me. Be my fluffer and get him hard and ready to fuck me. I see how hard your little white dick is just thinking about his sissy white bitch. I'll turn you into a bigger black dick whore than I could ever be, and you'll love every fucking minute. Not only will you love it, you'll beg for more. Maybe we'll turn you into your little pussy white breeder slut. You would love that wouldn't you?
Whatever your BBC phone sex fantasy, BBW Simone is the girl for you. Call me at 1-888-662-6482
aim – sensualbbwsimone