Hardcore is the only way I do anything, so when you call and ask for Queen Naomi, you had better be prepared for some seriously hardcore phone sex. No fucking excuses, bitch. If you can't take what I have to dish out, then you don't deserve to have that cock you're so fond of playing with! Are you a man or a mouse, motherfucker? Seriously! Go big or go home, that's My motto, and it applies to everything from the dicks I fuck to the way I torture you for being a pathetic bitch. This ain't no place for the weak of heart, buddy – this is My Queendom, and you're My sad little subject, here for My evaluation of your manhood…here for My ridicule…here for My torture, which you truly deserve…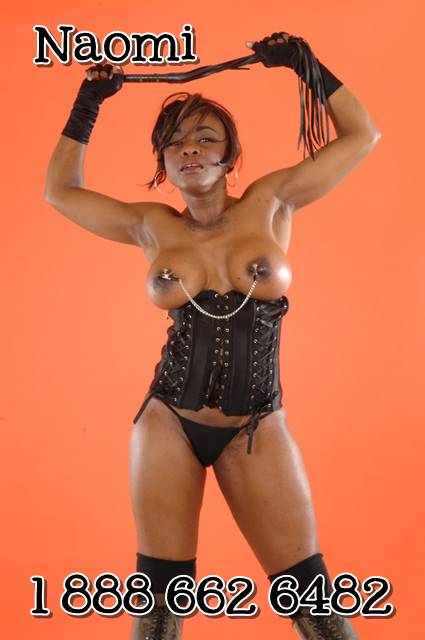 This Queen offers no mercy. Be prepared. Hardcore phone sex with a woman like Me doesn't go easily. My voice isn't soft, and neither am I. I like hearing you grunt from pain, whimper from shame, and beg for the mercy you know you won't receive anyway. I have the toys and I have the experience, and I can't wait to use them both on your sad little ass. And deep down inside your gut, right in that spot just above that sad excuse of a cock you have, you know you can't resist My control, nor can you deny My assessment of you. Everything you get from Me, you deserve, and you know it. That's why you called Me.
I don't think you're enough of a man to take it. Either you can accept that and bow down now, or you can let your man-feathers get ruffled by a bitch like Me and call Me to challenge Me to back it up. Either way, your ass is Mine – you just get to decide if it's at the start of the call or by the end. Don't worry – I'm patient. I can wait, especially when I know I'm going to win by the end. I will be your Queen.
If you think hardcore phone sex is your thing, then call a hardcore phone sex femdom at 1 888 662 6482 – Queen Naomi is just what you're looking for.