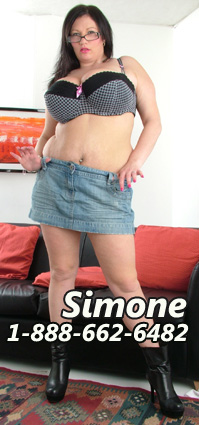 Bend over and touch your toes, here comes Sexy Simone with her big fat strapon cock! As much as I love strap on phone sex, I love wearing my strap-on and fucking my boys (and girls) in real life. I love when you guys call me and and ask me to do you in your ass. I love hearing you beg to my dirty slut anal whore and use that nasty fuckhole with my big plastic lady cock.
I'm not like every other phone sex girl who just bends you over and forces you to take my strapon dildo either. (unless of course your ass is well trained already!). I know how to go slow, I know how to lube up that tight asshole of yours, and train you to take bigger and bigger dildos. I know all about how to manipulate your prostate, how to milk your balls and how to make your orgasms bigger and more explosive than you have ever imagined. If you are a beginner to strap on phone sex or a total ass whore, I will give you exactly what you need.
When you call me for strap-on phone sex, it helps our call if you have a dildo or two, and lots of lube ready to play. Be sure to allow enough time to stretch you open for your best ass fucking experience! Of course we can just fantasize about it if you like, but I assure you a much more rewarding experience if you play along with me. If you're new to this, be sure your dildo is small, I'm not here to injure you or hurt you, just to teach you how to feel good!
Ready for some hot nasty strap on phone sex? Call Simone at 1-888-662-6482
AIM – SensualBBWSimone