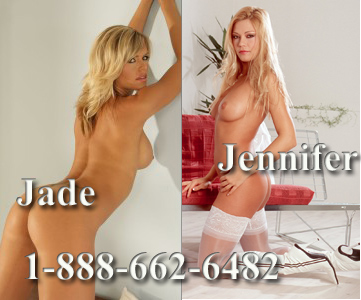 As with most things in life, if one is good, two is better. And when it comes to phone sex, 2 girl phone sex is definitely better than 1! I'm Jennifer and Jade is my sexy friend; two hot blondes who can't get enough of cock, pussy and more. We love to share. Close your eyes and think about watching Jade and I kiss and touch each other all over. As we kiss deeply, our tongues intertwining, you slide the head of your cock between our lips. One of us starts to gently suck on your balls while the other keeps her attention on your cock. You feel my nails digging in your ass and you might even feel a finger start to slide deep into your ass!
One of our favorite callers loves to be bent over and made to take both our strap-ons at the same time. One in his slutty mouth and the other in his pussy ass. Imagine all this and a hand on your cock at the same time. If your dick is too small to please us, our 2 girl phone sex call will find you being on your knees humiliated while Jade and I fuck our big dicked lovers. Don't worry baby, we'll let you eat our cream pie while we tell you how useless your pathetic dick is.
We also love to roleplay together and really get off on taboo fantasies. Jade could be your wife and I would be your lover who gets off on humiliating her. We could be super close, if you know what I mean? I can't say here but taboo 2 girl phone sex is our specialty! You name it, Jade and I will do it. Kinky, taboo, domination, or just a menage e trois fuck and suck fest.
For the hottest and kinkiest 2 girl phone sex, call Jennifer and Jade at 1-888-662-6482
AIM/yahoo FetishGoddessJennifer