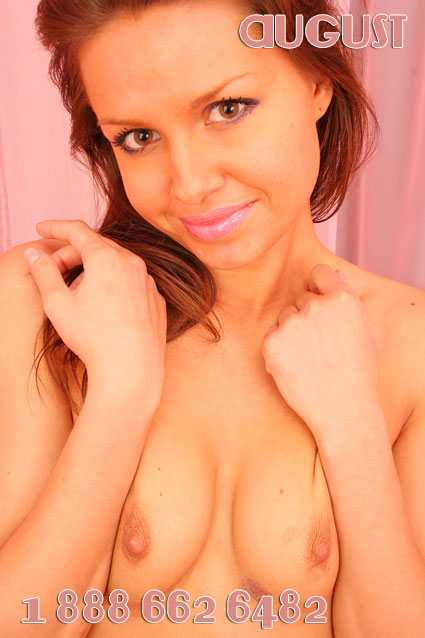 Hello there you guys with dirty desires.  I am August and I love no limits phone sex!!  Pushing the envelop is exactly what I crave and this is the perfect way to indulge in that delight for me and you as well.   Even though you see my picture and know who you are talking to, it still feels…well…secretive, and that I always so tasty for a naughty girl like me.  Being the one you can tell about he dicks you think about while stroking your own, or how much you love the feel of wearing women's panties. Maybe you like to spank you cock and torture your balls, or cannot seem to get enough of a feisty girl like grabbing a hold of your mind, twisting it around my finger and making you pay…BIG TIME for it.
There are so many ways to touch, message, taste and tangle with all the fantasies and fetishes that are out there, each and every one getting more and more intense then the last.  Maybe you are one of those special men whose cock starts to drip at the thought of my pretty, little feet being right in front of you, or buying me a pair of shoes or boots to wear so you know what is around my precious toes and even more so what is touching them, wishing it were you.
Or does your taste run deeper?  Mine is right at this moment, with the anticipation of crawling into you mind with my dirty thoughts, my pussy is
already getting wet.  I love to run one of my toys between my thighs while I am fantasizing about what kinky delights I will get tonight.  Many times a surprise and sometimes I sweat and cum so hard I am thirst and tired and it still never feels like enough to keep me satisfied.  I always want and need more so give me all that you can and reach as deep as you can go.
No limits phone sex is always exciting and a huge turn on so do no play alone any more, August is here to lend a helping hand, or foot for that matter, just call me at 1 888 662 6482!
AIM and Yahoo: augustishotnwet