Hiya boys! Imagine looking for the perfect partner in life. The one you can talk to about anything, no secrets, everything is shared. Not only is she your best friend, but the greatest lover. Have you found that one yet? Well, if not, just ask for an amazing girlfriend experience with the one and only amazing Ariel during GFE phone sex.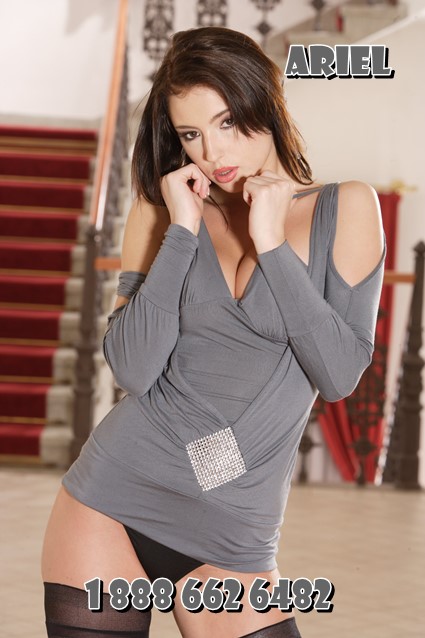 Not only will you have that magical experience you long for, but you will have pleasure where and when you want as well. Think about it! Most girls only want to give you pleasure when they are in the mood. Make them mad and they close their legs shut. I will keep mine wide open for my lover, for his happiness and pleasure make me perfectly happy. Of course, with being your perfect GFE phone sex experience I get to be spoiled too. See it's a two way street, minus the nagging and bickering you get in most relationships.
I know you are already fantasizing about what it will feel like to slip in and out of my sweet, tight creamy pussy. You want to get a taste of my sweet candy juices, now don't you? I may look sweet and innocent but don't look my sweet face fool you into thinking I am just another vanilla in the bedroom. I am far from vanilla. I inflict pain, I spank, I even humiliate. I am perfect from my titties to my toes and all the curves in between. You will be craving my attention so much you won't be able to stop thinking about me. In fact, thinking will turn into buying. My favorite part about being the perfect GFE phone sex experience is the financial domination you don't realize is happening right under your nose.
Want a piece of the amazing pleasure I can offer? Ask for Ariel when you dial 1 (888) 662-6482.
Yahoo: amazingariel
AIM: amazing_ariel
Twitter: @brattyprncssAri