Let's be clear, bitch. When I own you, I own ALL of you. That includes your cock, your balls, and your wallet. There's no in between – just all the way with me. I mean, seriously dude – I'm worth every fucking penny you have and then some. I'm worth every penny your best friend has too, and when you submit to financial domination phone sex with me, your new best friend is going to be your bank account. Why? Because it pleases me. That's why.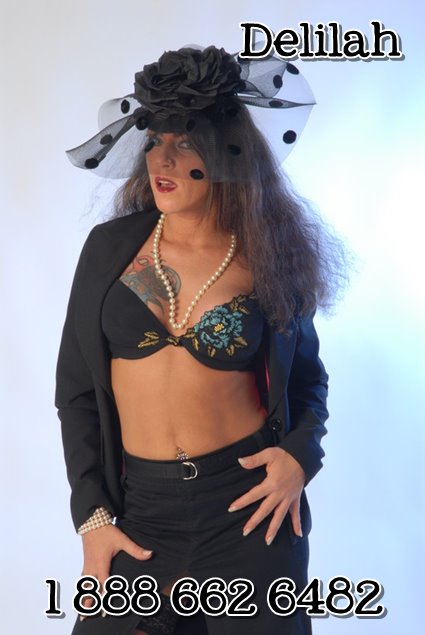 Lingerie costs money. Sex toys cost money. Tattoos and piercings cost money. Really, all the good things in life cost money, so financial domination phone sex is just more of the best things in life, especially when you call Dirty Delilah with your wallet in one hand, your dick in the other. I can't be the hot slut I am without a little generosity from a panting puppy dog like you, so be prepared to get on all fours and bark for me. Then be prepared to cough up that cold hard cash, because that's what I hear when I hear your voice – the bells of the cash register. Cha-ching!! Cha-ching motherfucker!!
Oh sure, you can buy yourself some toys and other good shit, but how long does that last? Isn't it better to make a girl like me happy? I mean, a happy and willing slut is truly the gift that keeps on giving, so to keep this slut happy, you need to keep on giving. It's only fair, and it's the only way a guy like you is going to make a girl like me even remotely happy. That's why all the guys with hot cars have hot chicks – you get what you pay for, and honey, I'm not bargain basement material. You know I'm right.
Put your money where your drooling mouth is, and call Delilah at 1 888 662 6482. I'll be happy to be your money clip's favorite temptress…